Visit the home page of MUD2's author, Richard Bartle! Uniquely flavoured, his material also contains two of his excellent novels that I wholeheartedly recommend; I had lots of fun reading them myself.
Old Links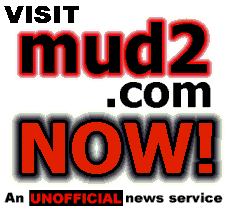 As of 2023, MUD2.COM has been in existence for 26(!) years. A lot has happened in all this time, so perhaps it's not surprising that many of the links once displayed on this page are no longer active. Nonetheless here they are, preserved for posterity, with links provided, where practical, to the last archived version on archive.org's Wayback Machine:
Eddy Carroll, aka Zedd the wizard, is a long-time friend, one-time arch-wiz of MUD2. If you do a search on the World Wide Web with MUD2 as the keyword, chances are that many of the pages you find will be part of Eddy's Unofficial MUD2 Home Page.
Tabitha the witch is the author of a client program named CLIO that has been developed specifically for MUD.
We are now listed in the MUD Connector! This amazing free Internet resource provides a well-maintained, near-complete collection of muds throughout the Internet. Needless to say, ours is the best ...
Vote for MUD2 here:
An ever more popular resource for MUD2 players is Web site maintained by Tobias the wizard. Be sure to check it out to find out who the juiciest mages are!
Cat the wizard also has a MUD2-related Web page now, containing many previously unseen hints and other bits of advice, all of which are 100% accurate of course (would a wizard ever mislead poor, unsuspecting mortals?)
McNabb, author of our Java-based graphical front-end, also wrote a new client program.
In addition to our own ABC, we recommend to all MUD players another excellent on-line newsletter: the BL Rag. As many of you know, BL, or British Legends, is the last surviving copy of MUD1, MUD2's predecessor. Run by CompuServe since 1985, it is probably the longest running MUD in existence. The BL Rag, a magazine of rumour and innuendo ("If it's True, You Probably Won't Find it Here" is its motto) is edited and maintained by Random the wizard.
The land will not be wiz-less anytime soon: the newest wizlet, a baby of Angelmist and Crysania, has arrived.
Most of you know Bridgette, either by that name or as Satchi or Sundaze. She did more than anyone to make MUD2 reality in North America. I first made wiz on MUD2 on her system, located at the time in Arizona (can you imagine my long-distance phone bill from Canada?). It was due to her work that first the NVN site, then the Kesmai site and later IPlay came into existence. I received my initial training as an arch-wiz from her on NVN. I hope she has no reasons to feel embarrassed about the bumblings of her former pupil!
The Land's greenest wizard (okay, okay, he isn't green, he is the emerald wizard) is Starquest, who also happens to maintain a beautiful MUD2-related Web page. Check it out; you won't be disappointed!