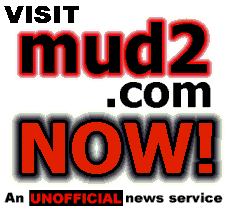 Important notice: effective immediately (October 22, 2016) telnet access to MUD2 is now only possible through the nonstandard port 27723. Thank some script kiddies from (mainly) Vietnam and Brazil, trying hundreds of bogus passwords with telnet bots...
---
MUD2 is an abbreviation for Multi-User Dungeon, version 2. There are many games, in particular many muds on the Internet, but there's only one true MUD: the one designed by Richard Bartle & Co., the first version of which has come into existence back in the late 1970s. Our game here is a "modern" version of the very same game, created and maintained by the original author.
Multi-user dungeons, or MUDs, were the forefathers of the multi-player genre. MUD2 is a text game. Just as books didn't go out of fashion when the motion picture was invented, it is our belief, shared by many MUD players, that text games can continue to entertain many serious players. 
These games laid the foundation for MMORPGs. We invite you to give MUD2 a try: Text games may appear passé these days but as many MUD players can testify, they can still give you an unbelievable adrenaline rush (to the extent that you are unable to type!) when you find your character being chased by a fire-breathing dragon.
If you're a Canadian and are seeking online gaming options where you can play slots, lottery and similar games of chance you might like to try reading some of the reviews featured at www.britishcolumbiaonlinecasinos.com a Canadian focused online gaming guide. But if text games are to your liking, why not try the original, and arguably still the best: that is, MUD2.
Please use the menu on the left of this page to navigate this site. Or, you may want to proceed to our step-by-step instructions that explain how you can play the game.
Notice: It appears that due to recent changes in the Java security model, the Java-based front-end, which used to be the most convenient way to connect to the game, stopped working altogether. If this problem affects you, please try using one of the alternate means to connect to the game.
| | |
| --- | --- |
| accesses to this Web page since August 6, 1997. | |
The following letter was sent to all MUD2.COM customers on the evening of Thursday, April 10, 1997. Note that MUD2.COM is now fully operational, the server's motherboard having been replaced the next day.
Dear MUD2 players,
It appears the the motherboard on the MUD2 server has died a premature death. Earlier, we suffered repeat crashes; now, the system does not even begin the boot sequence.
You know that things turned for the worse when your arch-wiz starts using his screwdriver instead of his FOD finger. It is obvious that I need to perform motherboard surgery; unfortunately, I do not keep spare Pentium motherboards in my drawers (you would be amazed to know just what kind of things I DO keep there, but sadly, a Pentium motherboard is not among them). Consequently, we have to wait until tomorrow (it is close to midnight my time) before I can acquire a new motherboard and bring the system back to life.
In case you are wondering, we do have a backup option available in the form of another computer, normally used for other purposes. However, configuring it with the production player database and bringing up under the MUD2.COM domain name would take most of the night, by which time I expect the primary system to have been repaired. I reserve this backup option in case of a longer term outage; i.e., if it turns out that a motherboard swap does not fix the problem, MUD2 will be brought back up tomorrow using the spare system. One way or another, I expect MUD2 back up and running no later than sometime tomorrow (Friday) afternoon Eastern time.
Once again, I apologize for the inconvenience, and hope for your understanding. We all work with computers and know what they are like; they rarely fail but when they do, it is not a pleasant experience.
Thank you very much for your continuing patience and devotion to our great game.
Gandalf the frustrated arch-wizard
Changes are afoot at MUD2.COM. Perhaps the most significant changes since our site came into existence at the end of January, 1997.
Free Promotional Period
It is my pleasure to announce that usage of MUD2.COM will be FREE between now and May 31, 2002. Free access will be granted to all existing and new accounts. You are encouraged to play as much as you want, and you are encouraged to bring as many friends as you can, and introduce them to the Land.
New Rates
Effective June 1, new, DRASTICALLY REDUCED RATES will be in effect. Monthly subscriptions will be available at USD 7.50; an annual subscription will cost USD 75.00; and pay-as-you-go fees are reduced to USD 0.50 per hour.
Over the next few days, all active subscriptions will be reset. Accounts that remained unused for an extended period of time will be purged. The credit on active pay-as-you-go accounts will be prorated. Monthly and annual account holders whose accounts are prepaid will be contacted.
New Payment System
What makes the new fee structure possible is a new, streamlined and automated payment system that uses the 
online payment service. There is, of course, a catch (isn't there one always?) If you are not yet a PAYPAL user and live outside the United States, it may take up to a month to set up a PAYPAL account (basically, they require you to verify your identity by entering a confirmation number that appears on your next statement next to a nominal charge.) I have hopes that PAYPAL will do away with this requirement in the near future; in the meantime, I hope it will not prove to be too great an inconvenience.
No other forms of payment will be accepted, with one exception: it will still be possible to pay by mail for hourly subscriptions, but all accounts must be PREPAID. We will continue to accept cheques and money orders in US, UK, and Canadian currency.
Needless to say, you are still welcome to e-mail sysop@mud2.com with your individual needs or concerns.
---
Why the changes, you ask? Undoubtedly most of you will agree that a reduction in price was long overdue. When MUD2.COM started, our basis for comparison was service providers like GEnie, were playing MUD2 cost 3 US dollars per hour. Compared to that, a 20 dollar monthly subscription was a real bargain. Reality has changed over the course of five years (five years! hard to believe) however. Today, our "competition" is spiffy online games with spectacular special effects available at a low monthly fee. Whether or not special effects make a better game may be open to debate, but if we wish to attract new players, which of course is the lifeblood of any online game, we must offer competitive pricing.
Unfortunately, under the old, cumbersome payment system this really made no sense; the workload associated with processing payments was simply too great. PAYPAL makes a difference: it makes it possible for us to not only accept payments online, but to automate the entire process. I (that is, Viktor the arch-wizard) have been using PAYPAL for personal purposes for over two years now, and I have had an overwhelmingly positive experience, which is why I chose this route, and which is why I am not afraid to recommend it to others.
Other changes are also afoot. In conjunction with the free period in May, we will do some modest advertising. It's been a long time since MUD2.COM was formally advertised on the Internet; hopefully this time, a "campaign" will be successful in bringing in new players.
I am sure you share my hope that our "relaunch" will be successful, and MUD2.COM will remain a crowded place, enjoyed by its loyal players for many more years to come!
When you sign up for a new account at MUD2.COM, we ask that you supply your real name, country of residence, and e-mail address. Several would-be players expressed concern that this information may be abused, or fall into the wrong hands.
We ask for names, e-mail, and country of residence for several reasons; these include tax (on Canadian accounts, we need to charge the Canadian federal Goods and Services Tax); fraud (we like to know who we are dealing with, especially in view of the fact that folks tried to use MUD2 in the past to communicate illegal schemes or even utter real life threats towards fellow players); and contact (if your account is unpaid, we want to be able to send you mail!)
The only personal information on the MUD2 machine proper is your name.
The only people who have access to this information are MUD2's arch-wizzes.
Wizzes have no access to information such as your account number or the name under which your account is registered. However, they can see all persona names under your account, and they can tell whether an account is newly opened.
Other account information, including your e-mail or country of residence, are NOT stored on the MUD machine, except temporarily during the signup process.
Credit card charges are processed through PAYPAL. No credit card information is requested by us or stored on our servers.
Privacy is paramount. We do not disclose any account information to anyone. Such disclosure by another arch, or attempts by a player to access this information through illegal means are reasons for immediate dismissal from the game, cancellation of the account, and possibly even real-life sanctions.
If we ever suspect that someone's privacy has been violated, we also intend to notify the victim, so that he or she can take whatever steps necessary to limit the damage.