Bombow's Fourth?
Contest
---
I, Admiral Bombow, challenge you to explain how the coat of arms pictured below came into being.
There's never been such a dreadful lot as that what first explored the land to the east and north of the inn. Night after night they'd return from their weary travels, telling tall tales of treasure to be looted, creatures from the mundane to the fantastic, panoramic views, vistas, unearthly edifices touching architectural beauty. Yet despite their gripping stories of golden cloths, crowns and the like, they never seemed to settle their slates. Raucous they might have been, but listening to their colourful puffery made my troubles fade away; it brought back my younger days aboard ship exploring dangerous lands far from home.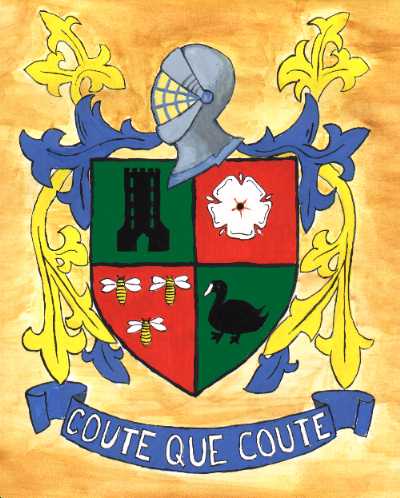 Nowadays the paths by the italianate mansion and formal gardens lay well explored, although the creatures are never quite conquered. I have only this old picture, painted by one of the original reprobates, as an aide-memoire to that time before.
The Challenge is to figure out where you might find the coat of arms painted above, and, more importantly tell a story about how it came to depict the items shown. You shouldn't have to use more than about 200-300 words. I'm after something that will fire my fading old memories!
Once you're satisfied that you've done your best, email your story to bombow@mud2.com, mentioning your persona name in the subject line. To stand a chance of winning I must have received your entries by the end of Sunday, 13 December. The victorious player, who will be presented with a suitable reward, shall be the person to have submitted the most incredible or imaginative story by that date. Don't worry - no one will be scoring for good spelling, or superb grammar (although the easier it is to read, the better!).
When I next see a friendly arch-wizard after the closing date, I'll ask him to announce an open invitation to the Prize Giving Ceremony. Naturally, as in all my previous Challenges, a variety of generous Runners Up prizes will be also be awarded.
Good Luck!
---
This Web page copyright © 1998 Viktor T. Toth
MUD2 is copyright © 1998 Multi-User Entertainment Limited
Page last modified: November 09, 1998